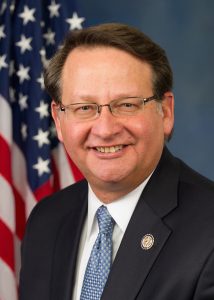 Senator Gary Peters is the junior U.S. Senator from Michigan. He serves on the Joint Economic Committee; Committee on Armed Services; Committee on Commerce, Science, and Transportation; and Committee of Homeland Security and Governmental Affairs.
Harvard Political Review: Historically, the automobile manufacturing sector has been an important industry to the economy in Michigan. As a federal policymaker, what do you think the future of the automotive industry looks like and what needs to be done to facilitate its advancement?
Senator Gary Peters: There is no doubt that self-driving cars represent one of the most dramatic, transformational changes for the auto industry since the first car came off the assembly line. This is as big as that event. It is going to transform not only the auto industry but also a lot of society. A lot of paradigms will change as a result of having self-driving vehicles. It is important to me as well as to the state of Michigan to make sure that we continue to be the center of the universe when it comes to the future of the auto industry. That is why I have been very involved in the industry and making sure we are moving the technology forward and in such a way that Michigan continues to be the leader in that area.
We have a competitive advantage because the auto industry is already located here in Michigan—research and development sites not only for the Big Three but also for foreign companies that are operating here in the United States. There is a research and development center for Toyota in Ann Arbor, Nissan in Farmington Hills, and Honda just south of the border in Ohio. There is already that critical mass of advanced research and development. We are finding that the tech companies in Silicon Valley, who are very involved in the development of some of the machine learning and artificial intelligence systems necessary to pilot these vehicles, are working in partnership with these automakers and locating more and more of their facilities in Michigan.
HPR: What steps should be taken to make the environment in Michigan, and the United States more broadly, as amiable to this industry as possible?
GP: It is important for the United States to be the leader in this technology, as we are facing significant competition from European companies as well as Asian companies. They are making significant investments in research and development, and we need to be doing the same here in the United States. Whoever is first in developing this technology will have a competitive advantage. Therefore, it is very important for us to be focused on it.
From a federal government perspective, there are a couple of things that are important. One, we need to have a regulatory environment that allows flexibility for companies to innovate and test these vehicles via testing facilities as well as on the highways. I am working right now with Senator Thune, who is the Republican chair of the Commerce division, which I sit on. The two of us are working to develop legislation to allow these new technologies to get on the road, allow innovation to continue to move forward, while also balancing the need for safety.
Part of that is the fact that, right now, the federal regulations for motor vehicles are very prescriptive, very specific as well. For example, regulations require that an automobile have a steering wheel. The same occurs for a brake pedal, for example. Self-driving cars will not have either of those items. All the federal regulations right now assume there is a human in charge of the vehicle, which will obviously be very different once you have autonomous systems operating. The problem with federal regulation in this space, as well as any high-tech space, is the fact that technology is moving a whole lot faster than the development of the public policy necessary to govern it. We are trying to allow the innovation to continue to move forward, create a space for it to happen, while also moving federal regulatory agencies to speed up their process when it comes to regulation. That is going to be very important for us to stay on the cutting edge of this technology and stay ahead of our foreign competitors.
It is also important to have testing facilities where this technology can be validated. I was very pleased that we were able to work with the Obama Administration to get 10 testing and validation centers authorized by the federal government prior to him leaving office. These are going to be test tracks that will bring all of the auto manufacturers together in one spot in order to test their equipment. This is different from the past, when every car company had a different test track and would test their cars and then bring them to market after testing and developing them. But self-driving cars are different due to the fact that a big part of their technology means that the cars are connected. Cars are going to be talking to each other. It is going to be one of the technologies, in addition to radar and lidar and cameras—you'll also have vehicle-to-vehicle communications where your car will be talking to mine, and that means that every car will be connected.
A Toyota has to be able to talk to a Ford and a Ford to a GM and a GM to a Nissan, and they all have to be interdependent on each other, so you need to have testing facilities where all of the auto manufacturers are testing at the same place knowing that these technologies can all work together. In Michigan, Willow Run was selected as one of those sites, and that's going to be a big deal for us here in Michigan, because wherever those test facilities are, you will find companies located around those test facilities so that they can validate their technology and get it certified for use on public highways and roads.
HPR: What should be the top infrastructural priorities for the coming years, and are the priorities of the Trump Administration in alignment with those goals?
GP: It is still too early to know what the Trump administration is going to do with respect to infrastructure. He certainly talked a great deal about infrastructure during his campaign, but we are now six months into his administration and still do not have any type of concrete proposal. We are still waiting to see where that develops.
I am certainly a big believer that we have to make substantial investments in infrastructure. The longer we wait, the more expensive it gets, and it is absolutely critical for the economic development of our country. In terms of general infrastructure, certainly bridges and roads all across the country need to be improved. As we are developing and improving our roads system, it is important for us to understand some of the technological changes that are going on with automobiles.
This goes back to the discussion about autonomous vehicles. In fact, in the last transportation authorization bill, I was able to get language in that bill to use federal money not only for steel, concrete, and other kinds of basic building materials for a highway, but also to pay for sensors, because part of autonomous vehicles will be sensors in the roadbed. You will have vehicle to infrastructure communication in addition to other vehicles. We have to design roads with that in mind. For example, a technology that will save lives is a technology that will be embedded into bridges that can alert your car that they are freezing over and that black ice exists on the bridge. You will have sensors that will track your car, and your car will automatically react to that. Those are the kinds of things that we have to be thinking about infrastructure in unconventional ways to match what is happening very rapidly on the technological front when it comes to automobiles.
We also have to focus on underground infrastructure, and Michigan is an example of what happens when we are not investing properly in water and sewer infrastructure. The catastrophic situation in Flint is an example of why we need to be investing adequately in water and sewer infrastructure, particularly in our older urban areas. It is incumbent that we make the necessary repairs to keep those systems up to date and safe for their residents.
In terms of major infrastructure projects, there is probably no more critical piece of infrastructure than the Soo Locks. If anything were to happen to the Soo Locks, you would have a major detrimental impact on the entire U.S. economy. The volume of raw material that comes through the Soo Locks in terms of iron ore and other basic minerals, if that is disrupted, basically the steel industry shuts down in North America. Many folks describe the Soo Locks as the Achilles' heel of the North American manufacturing economy. A recent Department of Homeland Security study showed that if you had a long-term shutdown of the Soo Locks, it would lead to a national recession and could cause up to 11 million American jobs.
HPR: When you say "Achilles' heel," is that because they are in a particularly vulnerable state at the moment?
GP: It is, because of its age. We are talking about old locks that have been maintained by the Army Corp of Engineers. To their credit, they have done an outstanding job of maintaining locks that are many years old. In fact, when I was there last week, we were looking at some of the water pumps used to de-water the locks, and those pumps were originally put into place in 1917 and 1918, 100 years ago. It is a tribute to the Army Corps of Engineers that they continue to have pumps that are 100 years old operating in the locks, but you cannot keep doing that indefinitely. We cannot keep living off the investments made by our grandparents and great grandparents—it is time for us to make those kinds of improvements.
Most of the maintenance for the Soo Locks is done in the winter, when they are closed, but you cannot keep doing that in the winter as well. There are some long-term shutdowns that are going to be required in order to fix basically only one lock. It is called the Poe Lock. The Poe Lock is the only lock that can accommodate the thousand-foot freighters, which is 80 percent of traffic that goes through the locks. If you had a catastrophic failure of the doors or the valves, it would cause great harm to the entire U.S. manufacturing economy.
HPR: The Trump Administration recently released its proposed budget, which would zero out programs like the Great Lakes Restoration Initiative and the National Sea Grant Program. How do you respond to the administration's rationale, that such programs would be better left to state or local governments?
GP: I think it is irresponsible to cut out the Great Lakes Restoration funding. Trump does not understand the importance of the Great Lakes, not only to the Midwest region but also to the entire country. It is important to remember that the Great Lakes provide drinking water for over 40 million Americans. This is an asset that is both interstate and international, sharing the border with Canada. This is a resource that requires national attention, not just an individual state's attention.
Great Lakes Restoration funding allows us to do a variety of projects, including cleaning up toxic hotspots that are leaking toxins into the water. We need to protect the lakes not just for today but also for future generations. If you look in the past, we have been able to get bipartisan support for the Restoration project, not just with folks who live in the Great Lakes region but around the country as well. It has certainly been my experience that more and more of my colleagues from around the country realize that the Great Lakes are a national asset.
HPR: What did you think of former FBI Director James Comey's testimony before the Senate Intelligence Committee?
GP: It highlights the importance of the investigation. We have an independent special counsel that is now looking into the extent to which the Trump Administration may have been involved in the Russian interference in our election. We need to let that process move forward. We need to let the facts speak for themselves. Certainly, Mr. Comey raised a number of troubling issues, including what appears to be very inappropriate behavior on the part of the president when it came to the investigation by Mr. Flynn.
Image Source: Flickr/Chetly Zarko // Wikimedia Commons